Dika Newlin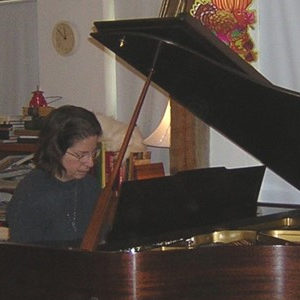 Composer, punk rocker, professor, Elvis impersonator, pianist, cabaret singer, and musical prodigy all rolled into one. For almost thirty years, Dika Newlin embodied the traits the Richmond, VA music scene prides itself on: talented, quirky, industrious, charming, creative, and utterly fascinating.
Dika Newlin was born in 1923 in Portland, OR with an early aptitude for learning and music. After starting piano lessons at age 6, Dika Newlin finished her first symphonic piece, Cradle Song, at the age of 8 in 1931 which was later performed by the Cincinnati Orchestra. The conductor of that orchestra, Vladimir Bakaleinikoff, was so impressed by her piece that he introduced Newlin to famed composer Arnold Schoenberg and implored her family to let her study under him.
While working alongside Schoenberg, Newlin earned her Bachelor's degree in French literature from Michigan State University at the age of 16, followed by her master's degree two years later, and then her doctorate in musicology at the age of 22 from Columbia University, the first such doctorate ever issued by the Ivy League school.
After completing her education, Newlin taught at various colleges for three decades including Syracuse and the University of North Texas, while also spending time with Schoenberg in Vienna and performing in festivals and symposiums.
In 1978, Newlin moved to Richmond, VA to develop a doctoral program in music at Virginia Commonwealth University, where she would remain for the rest of her life. There, Newlin also began performing in the local music and arts scene. She would occasionally perform as an Elvis impersonator, created a solo cabaret act, and even performed as part of punk rock outfit Apocowlypso who put out an EP in 1987 entitled Meat the Apocowlypso. (You can listen to that EP on Bandcamp!) In the '90s, Newlin's cult status continued being featured in local horror movies and even being the subject of a 1995 documentary by Michael D. Moore entitled Dika: Murder City at the age of 74.
All the while, Newlin continued to teach and mentor young musicians in and around the Richmond area. Publications from the 1990s and 2000s documented her reputation as "The Bag Lady of Music," often seeing travelling down Grace Street with a shopping cart full of papers and belongings as she traveled between VCU and various gigs.
On June 30, 2006, Dika Newlin passed away at the age of 82 years old follow complications from an accident earlier that year. She is survived by second-cousins John Hull and David Hull of Cincinnati, Ohio.
The Newlin Music Prize is dedicated to her memory and the enduring legacy she left upon the Richmond, VA music scene with her remarkable talent, endless creativity, free spirit, and beautiful heart.
Articles & Recordings Of Note:
NewMusicBox – Schoenberg's Punk Rocker: The Radical Transformations Of Dika Newlin
The New York Times – Dika Newlin, 82, Punk-Rock Schoenberg Expert, Dies
Throttle – Dika Newlin Interview With Brooke Saunders
Vimeo – Dika Newlin Performs Murder City
Bandcamp – Meat the Apocowlypso by Apocowlypso
NPR – Dika Newlin, a Fan of Piano and Punk