About
The Newlin Music Prize is an award given to the best full-length album from the Richmond-Petersburg, VA metropolitan area based solely on artistic merit without regard to style or popularity.
Named after musical prodigy, VCU professor, and performer Dika Newlin (1923-2006), the prize launched in 2022 to award its first ever award for albums released in the previous calendar year. The winner will receive a $1,000 cash prize in the hope of fostering future recordings and performances.
The Newlin Music Prize is a not-for-profit organization that is modeled after similar music awards, such as the Polaris Music Prize and Mercury Prize. The ultimate aim of this organization and prize is to raise awareness of the diverse music scene in the Richmond, VA area and to encourage more great musical works to come out of the area.
In the future, the prize will partner with other local organizations and charities in order to continue spreading awareness for local music.
Jury Members
Akim Mansaray (Musician)
Alberto Yapur (Musician)
Alicen Hackney (Journalist)
Anais Stewart (Journalist)
Andre Mags (Photographer)
Andrew Cothern (RVA Playlist)
Benét Nutall (Musician)
Brendan Hall (Musician)
Bri Bevan (Woman Crush Wednesday)
Brice Maddox (WRIR 97.3)
Caitlin Parker (Restless RVA)
Calvin Brown (Musician)
Chris McDonald (Restless RVA)
Clara Endres (Journalist)
Cole Hicks (Musician)
Davy Jones (You Hear That, Style Weekly)
Doug Nunnally (The Auricular)
Elaine Neous (Miss Elaine Neous)
Elijah Jai-Mychael (HearRVA)
Gigi Broadway (The Cheats Movement)
Hilary Langford (Style Weekly)
Hip Hop Henry (Journalist)
Indira Sultanić (Musician)
Isaiah Carter (Musician)
Jackie Bishop Wells (Fallout)
Jamil Jasey (Musician)
Jasmine Blooms (The Writer's Den)
Jay Smack (StudioB, WRIR 97.3)
Jennifer Kennedy (Artist)
Jewel Princess Johnson (Kokayeena Ent, TMM)
Justin Golden (Musician)
Kieran Cleary (Journalist)
Laura Crowley (PR)
Lauren Serpa (Photographer)
Maggie Graff (Ignited)
Marc Cheatham (The Cheats Movement)
Marilyn Drew Necci (RVA Magazine)
Mark Obsorne (Show Promoter)
Matt Klimas (Musician)
Maya Walters (WRIR 97.3)
Mike Street (WBTJ 106.5 The Beat)
Nickey McMullen (The Writer's Den)
Noah Page (WRIR 97.3)
Payton Baril (Hind Gallery)
Randy Wilson (The Randy Wilson Podcast)
Rian Moses-Hedrick (HearRVA)
Rivanna Youngpool (Show Promoter)
Robin Schwartzkopf (RICtoday)
Sap Evans (WRIR 97.3)
Sean King (Videographer)
Shannon Cleary (WRIR 97.3)
Shelly Thiss (Musician)
Taylor Peterson (Journalist)
Tess Fisher (Musician)
Tom Breihan (Stereogum)

FAQs
Can I submit an album for consideration?
No. All albums that meet the following qualifications are automatically eligible for the Newlin Music Prize:
From a musician or group in the Richmond-Petersburg metropolitan area
Exceeds 25 minutes in length or contains at least five songs
Released in the past calendar year (Re-issues & Deluxe versions excluded)
How is the short list determined?
Based on the above qualifications, each member of the jury can nominate up to 40 albums for the award. A short list is created based on the albums that received the most nominations. In the event of ties, a run-off poll will be sent out to all jury members to vote upon.
How is the winner determined from the short list?
The jurors listen to each album on the short list and cast individual ballots that rank the 10 best albums from the 20 under consideration. There is also a public fan vote that will count towards one ballot in the final total. Fans can vote on their 10 favorites from the list and the 10 albums with the highest votes will make up the official fan ballot.
Who comprises the jury?
The jury comprises of over 50 members of the Richmond music & arts scene, including musicians, journalists, radio hosts, artists, photographers, and activists, that cover local music in a variety of ways. 47% of the members on the jury identify as female, 44% identify as male, and 9% identify as non-binary. 54% of the members of the jury identify as white and 46% come from minority races (BIPOC). A full list of jury members is available on this page.
How can I join the jury?
We are always looking for qualified jurors that bring a unique perspective to the nominating and voting process. If you are interested, please e-mail us at contact AT newlinmusicprize.com and send us all relevant information so that you may be considered for the following year's prize.
I have a different question that hasn't been answered here. How do I reach you?
You can e-mail contact AT newlinmusicprize.com and you should receive a response in 48-72 hours. Please be clear in your question or request.
About Dika Newlin
Composer, punk rocker, professor, Elvis impersonator, pianist, cabaret singer, and musical prodigy all rolled into one. For almost thirty years, Dika Newlin embodied the traits the Richmond, VA music scene prides itself on: talented, quirky, industrious, charming, creative, and utterly fascinating.
Dika Newlin was born in 1923 in Portland, OR with an early aptitude for learning and music. After starting piano lessons at age 6, Dika Newlin finished her first symphonic piece, Cradle Song, at the age of 8 in 1931 which was later performed by the Cincinnati Orchestra. The conductor of that orchestra, Vladimir Bakaleinikoff, was so impressed by her piece that he introduced Newlin to famed composer Arnold Schoenberg and implored her family to let her study under him.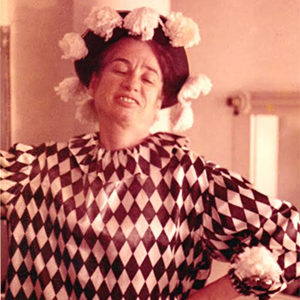 While working alongside Schoenberg, Newlin earned her Bachelor's degree in French literature from Michigan State University at the age of 16, followed by her master's degree two years later, and then her doctorate in musicology at the age of 22 from Columbia University, the first such doctorate ever issued by the Ivy League school.
After completing her education, Newlin taught at various colleges for three decades including Syracuse and the University of North Texas, while also spending time with Schoenberg in Vienna and performing in festivals and symposiums.
In 1978, Newlin moved to Richmond, VA to develop a doctoral program in music at Virginia Commonwealth University, where she would remain for the rest of her life. There, Newlin also began performing in the local music and arts scene. She would occasionally perform as an Elvis impersonator, created a solo cabaret act, and even performed as part of punk rock outfit Apocowlypso who put out an EP in 1987 entitled Meat the Apocowlypso. (You can listen to that EP on Bandcamp!) In the '90s, Newlin's cult status continued being featured in local horror movies and even being the subject of a 1995 documentary by Michael D. Moore entitled Dika: Murder City at the age of 74.
All the while, Newlin continued to teach and mentor young musicians in and around the Richmond area. Publications from the 1990s and 2000s documented her reputation as "The Bag Lady of Music," often seeing travelling down Grace Street with a shopping cart full of papers and belongings as she traveled between VCU and various gigs.
On June 30, 2006, Dika Newlin passed away at the age of 82 years old follow complications from an accident earlier that year. She is survived by second-cousins John Hull and David Hull of Cincinnati, Ohio.
The Newlin Music Prize is dedicated to her memory and the enduring legacy she left upon the Richmond, VA music scene with her remarkable talent, endless creativity, free spirit, and beautiful heart.
Articles & Recordings Of Note:
NewMusicBox – Schoenberg's Punk Rocker: The Radical Transformations Of Dika Newlin
The New York Times – Dika Newlin, 82, Punk-Rock Schoenberg Expert, Dies
Vimeo – Dika Newlin Performs Murder City
Bandcamp – Meat the Apocowlypso by Apocowlypso
NPR – Dika Newlin, a Fan of Piano and Punk